13t/h Sludge Dryer in Kenya
13t/h sludge dryer of Hongxing Machinery that will be shipped to Kenya is loading now. With diameter of 2.2 meters, 14 meters length and the total weight of 36 tons, the sludge dryer owns strengths of reasonable partition and high material and gas exchange efficiency, the sludge dryer is strongly favored by our customers in Kenya. We will dispatch professional technical staff to carry out free guidance to install.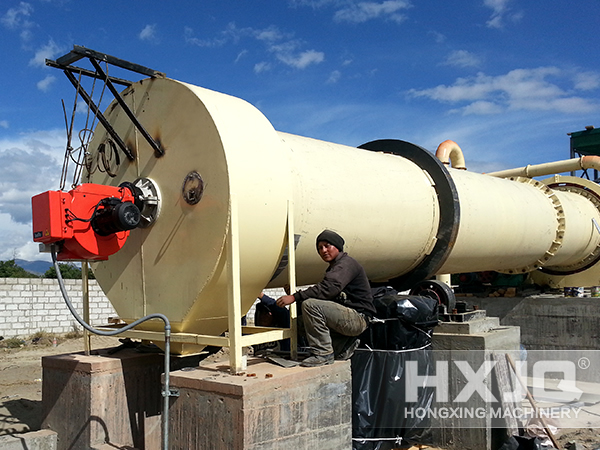 Main Characteristics of the Sludge Dryer
1. The reasonable partition is conductive to the better effect of material dispersion.
2. Unique rapping device makes an effective solve to problems of material agglomeration and movement block.
3. Special sprinkler device makes a high efficiency of the material and gas exchange.
4. The material and hot air flow drying process has a wide usage range and maintains the original activity of the material.
5. Automatic temperature monitoring and control system keeps the system operation more convenient.
6. Frequency conversion technology adjusts the cylinder speed effectively and optimizes contact time between the material and hot flue gas, improving the drying effect.
7. Optimize structural design and extend equipment service life.
Some Cases of Sludge Dryer on Hongxing Machinery
1. India customers purchased aΦ1.5×14m sludge dryer on July 3, 2015.
2. Customers of Ethiopia bought aΦ1.8×14m sludge dryer on May 17, 2016.
3. Manager of one mining company in Pakistan purchased the 11.4t/h sludge dryer on January 13, 2017.
Get Latest Price
If you need the latest price list, please leave us a message here, thank you! We guarantee that your information will not be divulged to third parties and reply to you within 24 hours.Tell us your needs, there will be more favorable prices!