How to Use the Cone Crusher Effectively?
With advantages of high crushing efficiency and ratio, perfect finished product size and complete product design and model, cone crusher is strongly favored by customers. Cone crusher of Hongxing Machinery is divided to spring cone crusher, Symons cone crusher, compound cone crusher, hydraulic cone crusher and so on. Therefore, how to use the cone crusher effectively? According to the research of Hongxing Machinery, aspects of equipment power, crushing ratio, matching rate between the crushing materials and equipment model and operating method play important roles in the cone crusher effective usage.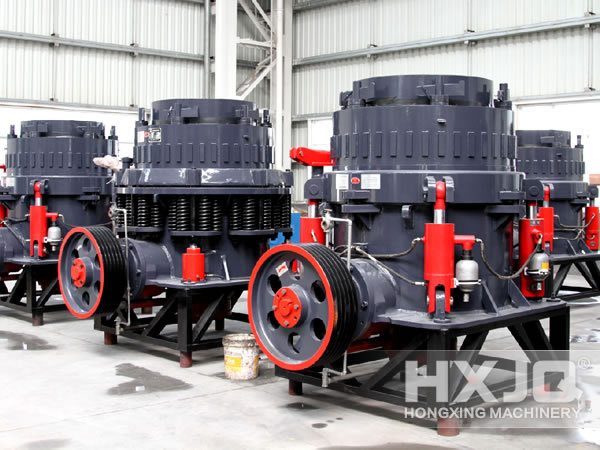 Cone crusher is widely used in the metallurgy, construction, road building, chemical and silicate industry for crushing materials of medium hardness minerals and rocks. With high crushing ratio, high production efficiency, low energy consumption and uniform product size, cone crusher serves for raw materials fine crushing and intermediate crushing.
Now let's talk about what preparations we need do before starting up the cone crusher.
1. Check whether there are cumulated materials and foreign matters in the crushing cavity.
2. Check whether there is enough oil in the oil tank. Ensure that oil quality meets the usage demand and the oil filter device is undefiled.
3. Guarantee no pipeline leakage and failure of the oil pump and pipeline. Check whether the oil pressure is in the 0.5 to 1.2 kg/cm. It is necessary to ensure the oil flow is smooth and stable.
4. Check whether screws of all parts are loose. Correct the tension of the belt to a proper degree. Examine whether umbrella deck is loose and seriously worn.
5. Adjust the discharge port clearance to the required state; check whether the discharge port clearance meets usage requirements.
6. Check whether the spring compression is consistent and the spring damage or not.
7. Check whether ammeter pointer is in the zero position and the dust collector is good.
The correct operation is the security protection of equipment safe running. Hongxing Machinery specializes in the production of cone crusher. With the excellent quality and reasonable price, cone crusher of Hongxing Machinery is popular among the mining market.
Get Latest Price
If you need the latest price list, please leave us a message here, thank you! We guarantee that your information will not be divulged to third parties and reply to you within 24 hours.Tell us your needs, there will be more favorable prices!