Cone Crusher

Processing capacity: 12-1000t/h
Discharge opening: 3-60mm
Feeding size: 35-300mm
Applied material: barite, marble, talcum, calcite, dolomite, fluorite, kaoline, coal, gypsum, etc.
Introduction:
Cone crusher structure is composed of the main part such as frame body, adjusting device, adjusting sleeve, crushing cone, transmission device and eccentric sleeve as well as electrical, lubrication and other auxiliary parts. It can be used for crushing ore and rock with not more than 250MPa compressive strength, which can be used for crushing hard and medium hard materials in mining, metallurgy, building materials, chemical industry and other departments.
The device adopts the spring overload protection device to make iron and other impurities passing through the crushing cavity without damaging the machine.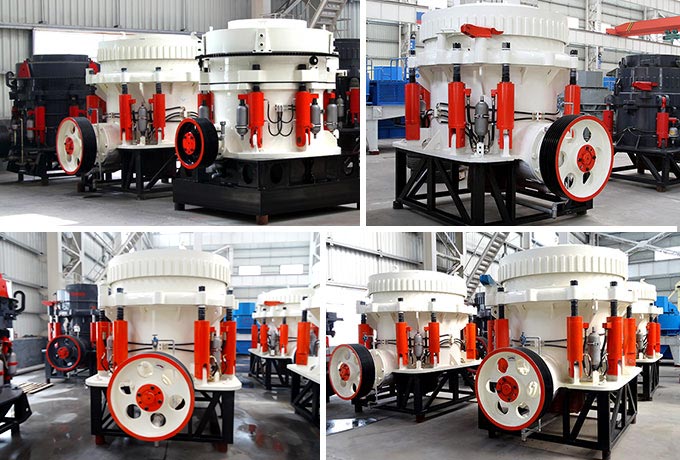 Cone crusher is divided into coarse crushing cone crusher, medium crushing cone crusher and fine crushing cone crusher. According to the types of crushing chamber, it can be classified into three categories: the standard type, medium type and short head type, wherein the standard type can be applied to medium crushing; medium crusher suitable for fine and medium crushing; short head is suitable for fine crushing.
Features:
1. It adopts hydraulic spring protection device to make iron and other impurities passing through the crushing cavity without damaging the machine.
2. Many kinds of crushing chamber, flexible applications, strong adaptation.
3. Unique dust proof sealing structure, so that dust and other impurities cannot enter the machine, so as to keep the lubricating oil clean.
4. Reliable structure, big crushing ratio, high production efficiency.
5. Less consumption of wearing parts, low operation cost.
6. High degree of automation, reduce downtime.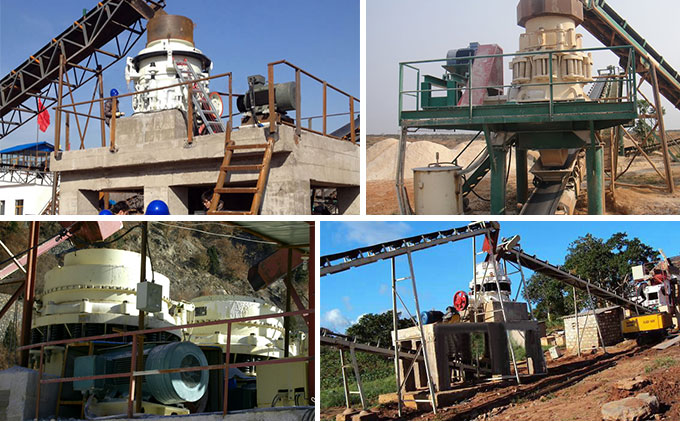 Hongxing Machinery is professional in the production of cone crusher, which has advanced structure, high quality and complete models, such as Hydraulic Cone Crusher, Mini Cone Crusher, etc. in addition, we also has Cone Crusher Parts for sale. Welcome new and old customers to contact us!
Cone Crusher Technical Data
Specification
Model
Diameter
of large
end of
crushing
cone
(mm)
Max.feeding
size(mm)
Width of
discharge
opening
(mm)
Processing
capacity
(t/h)
Motor
power
(kw)
Total
weight
(t)
Dimensions
(L×W×H)
(mm)
Φ600
PYB600
600
65
12-25
40
8P 30
5
2234×1370×1675
PYD600
35
3-13
12-23
5.5
2234×1370×1675
Φ900
PYB900
900
115
15-50
50-90
8P 55
11.2
2692×1640×2350
PYZ900
60
5-20
20-65
11.2
2692×1640×2350
PYD900
50
3-13
15-50
11.3
2692×1640×2350
Φ1200
PYB1200
1200
145
20-50
110-168
8P 110
24.7
2790×1878×2844
PYZ1200
100
8-25
42-135
25
2790×1878×2844
PYD1200
50
3-15
18-105
25.3
2790×1878×2844
Φ1750
PYB1750
1750
215
25-50
180-360
8P 160
50.3
3910×2894×3809
PYZ1750
185
10-30
80-210
50.3
3910×2894×3809
PYD1750
85
5-13
60-180
50.2
3910×2894×3809
Φ2200
PYB2200
2200
300
30-60
420-700
8P 280-260
80
4622×3302×4470
PYZ2200
230
10-30
130-410
80
4622×3302×4470
PYD2200
100
5-15
80-200
81.4
4622×3302×4470
Get Latest Price
If you need the latest price list, please leave us a message here, thank you! We guarantee that your information will not be divulged to third parties and reply to you within 24 hours. Tell us your needs, there will be more favorable prices!
© Copy Right: Hongxing Mining Machinery. All rights reserved.