Strong Adaptation and Flexible Configuration of Mobile Crusher
Mobile crushing station is the large-scale equipment integrating feeding, crushing and conveying. Once it comes into the market, a purchasing boom and short supply are caused. Why is the mobile crushing station so popular in the mining market? Hongxing Machinery helps you find out reasons.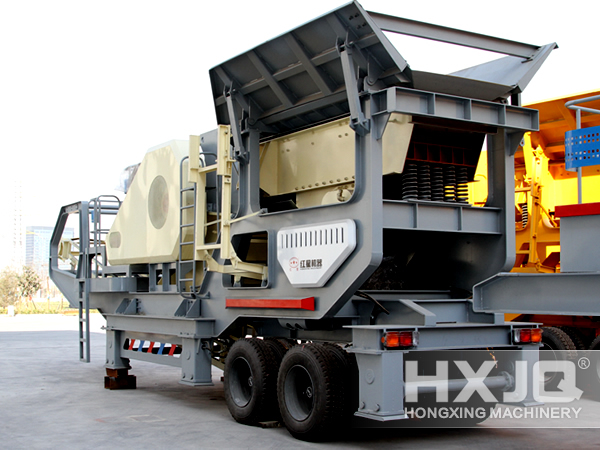 1. the Complete Set of Unit
Integrated group operation eliminates the complex of infrastructure and ancillary facilities installation operations, greatly reducing the consumption of materials and working hours. Reasonable and compact unite distribution makes a maximum optimization of layout space in the working site.
2. Flexible Mobility
According to different mobile ways, mobile crushing station can be divided into wheel mobile crushing station and crawler-type mobile crushing station. With the high vehicle chassis and small turning radius, the wheel mobile crushing station is available in common highway and rugged road. With the all wheel drive and crawler-type move, crawler-type mobile crushing station is no damage to road and achieves climbing operations and pivot steering. It is especially suitable for narrow and complex working site.
3. Reduction of Material Transport Cost
Mobile crushing station can be directly drove to working site to make the first line crushing operation, eliminating the material transport link and largely reducing the production costs.
4. Direct and Effective Operation
Besides its independent utility, mobile crushing station can also satisfy the mobile crushing and mobile screening demands according to the various materials types and production requirement. The direct and effective organization generation and logistics operation helps a maximum cost reduction.
5. Strong Adaptation and Flexible Configuration
Mobile crushing station provides characteristic unit configuration with simple and low-cost combination. With strong adaptation and flexible configuration, mobile crushing station can realize the unit independent operation and unit joint operation, satisfying multi demand of customers.
Get Latest Price
If you need the latest price list, please leave us a message here, thank you! We guarantee that your information will not be divulged to third parties and reply to you within 24 hours.Tell us your needs, there will be more favorable prices!