Equipment Configuration of 400-500t/h Stone Production Line
Sand-gravel material is widely used in construction, water conservancy, highway, railway, airport runway and other fields. With the rapid development of urbanization construction, investors are increasingly pay attention to market prospects of stone production line. With advantages of low investment and large benefits, 400-500t/h stone production line is the most common production plant in the current market.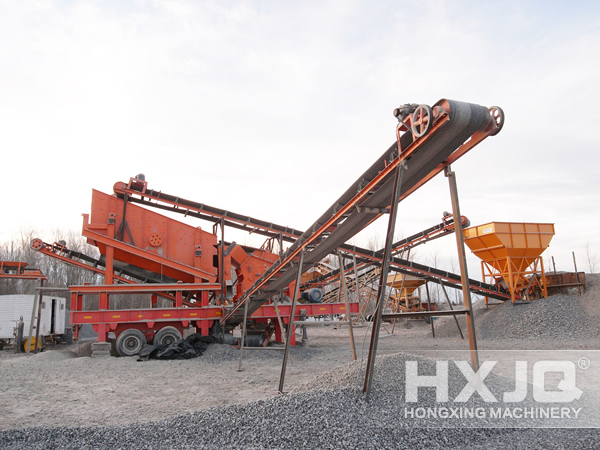 Equipment Configuration of 400-500t/h Stone Production Line
According to factors of stone factory status, stone specifications and customer needs, Hongxing Machinery has designed 400-500t/h stone production line that is available for hundreds of materials, such as pebble, calcite, granite, quartz, concrete, dolomite, bluestone, iron ore, limestone, iron ore, coal gangue, construction waste, ferrosilicon, basalt, sandstone, ore, glass, cement clinker, etc. Hongxing Machinery provides professional process planning and technical guidance for customers. Production line equipment configuration is as follows.
1. Hard material: vibrating feeder + jaw crusher + impact crusher + circular vibrating screen + belt conveyor
2. Soft Material: Vibrating Feeder + Jaw Crusher + Cone Crusher + Circular Vibrating Screen + Belt Conveyor
Besides the above-mentioned equipment, manufacturer will assemble electronic control system, and dust removal equipment to guarantee the complete high efficiency of the production line.
Process Flow of 400-500t/h Stone Production Line
Vibrating Feeder uniformly sends the raw mineral to jaw crusher for coarse crushing. Then the coarse crushed materials will be uniformly convoyed to impact crusher or cone crusher through belt conveyor for further crushing. At last, the circular vibrating screen will make a sieving. The qualified materials will be sent to finished product area and the unqualified ones will receive further crushing.
Advantages of 400-500t/h Stone Production Line
With perfect process craft, reasonable equipment configuration and scientific production flow, the 400-500t/h stone production line has its obvious strengths.
1. Compact and reasonable space cross-layout save 30% capital investment;
2. With large production capacity and high efficiency, stone production line in Fote Machinery can produce sand and gravel materials with various models, reasonable grades and pretty-looking sand shape.
3. Effective environmental method guarantees the free noise and dust, achieving the ideal production effect of low carbon.
4. Equipment of the stone production line has long service life and 70% reduction broken rate, which is conductive to the stable running and more than 150,000RMB investment decrease.
Estimate of 400-500t/h Stone Production Line
Estimate of 400-500t/h stone production line is the visual focus of investors. On the one hand, the stone production line fully integrates the stone plant status and all equipment is provided by our company. The scientific equipment configuration makes it more economical and affordable; on the other hand, a series of activities introduced by Fote Machinery guarantee the 8-9 discounts. In total, the stone production line in Fote Machinery reduces about 100,000RMB investment cost. To get the lasted price list, please send an email to info@sinoftm.com
Get Latest Price
If you need the latest price list, please leave us a message here, thank you! We guarantee that your information will not be divulged to third parties and reply to you within 24 hours.Tell us your needs, there will be more favorable prices!