Introduction:
Shaking table is one of the main gravity ore dressing equipment, which is widely used in the beneficiation of tungsten, tin, tantalum, niobium, gold and other rare metals and precious metal ore. It can be used for roughing, selection, scavenging and other different operations, so as to separate coarse sand, fine sand, mud and other different particle size materials. Shaking table can also be used to separate iron, manganese ore and coal. When processing tungsten and tin ore, the effective recycling granularity scope of shaking table is 2-0.22 mm.
Shaking table is mainly composed of eight parts such as shaking bed, motor, adjustable slope, bed surface, ore tank, water tank, rifle and lubrication system. The longitudinal reciprocating motion of bed surface is achieved through a crank connected rod transmission device.
Advantages:
Shaking table has combined with the domestic shaker and gravity separation technology, which has the advantages of high enrichment ratio, high separation efficiency and simple operation. It can obtain the final concentrate and final tailings for one time. When compared with the traditional process, it can work with no agent, which has low energy consumption, convenient management, higher performance to price ratio and other advantages.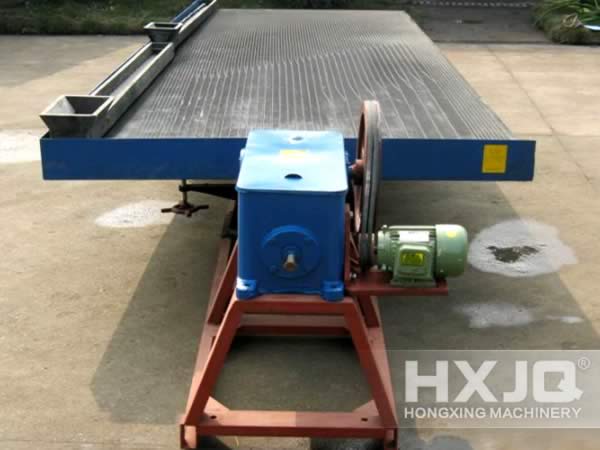 Features:
1. Exquisite production process, stable and reliable operation.
2. The module adopts high quality cast iron and NSK import bearing to make the machine more durable.
3. Long service life, without maintenance.
4. Unique automatic power-off temperature control device when motor is overheating.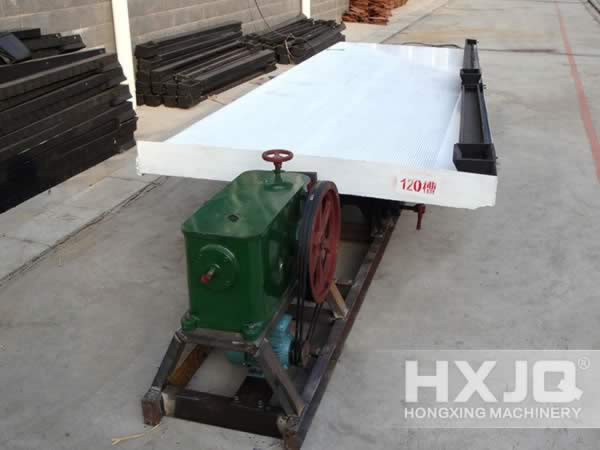 5. Mute design of the whole equipment.
6. High enrichment ratio, good separation efficiency.
Hongxing Machinery has shaking table for sale, which has complete models, for example gold shaking table. For our shaking table price, we can offer the most favorable price with highest quality product. You can leave us a message or send emails to sales@hxjq.com to get our quotation.
Shaking Table Technical Data
Name
Grit
concentrator
table
Fine sand
concentrator
table
Sludge
concentrator
table
Bed surface
Dimensions
Length
(mm)
4450
4450
4450
Driving
part Width
(mm)
1855
1855
1855
Concentrate
part Width
(mm)
1546
1546
1546
Max.feeding
size(mm)
2
0.5
0.15
Feeding
amount
(t/d)
30-60
10-20
15-25
Feeding
thickness
(%)
25-30
20-25
15-25
Stroke
(mm)
16-22
11-16
8-16
Frequency
(f)
45-48
48-53
50-57
Bed surface
Water quantity
(t/d)
80-150
30-60
10-17
Bed surface
Horizontal
obliquity(°)
2.5-4.5
1.5-3.5
1-2
Bed surface
Portrait
obliquity(%)
1.4
0.92
----
Table board
corner(°)
32-42
40
42
Concentrating
area(㎡)
7.6
7.6
7.6
Bed surface
Length ratio
2.6
2.6
2.6
Shape of
side-bed
surface
Rectangle
Zigzag
Triangle
Motor
power(kw)
1.1
1.1
1.1
Transmission
device
Eccentricity