Introduction:
Roll crusher is mainly composed of roller, roller supporting bearing, compressing and regulating devices as well as the driving part. The transmission device includes fixed roller, movable roller, transmission shaft, body, bottom frame, shell, long gear shell and other parts.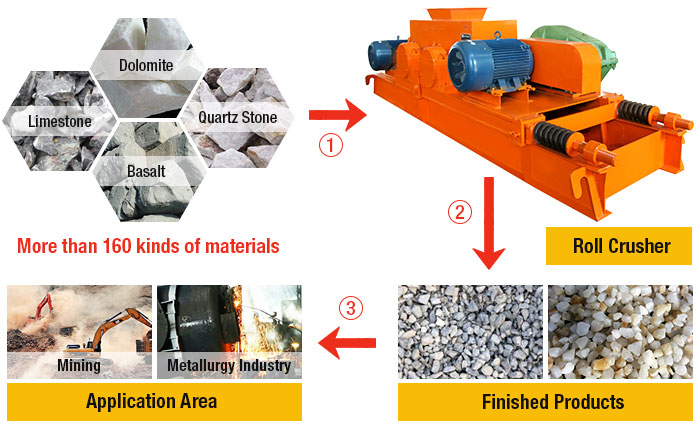 The double roll crusher is driven by the belt conveyor of the electric motor, and through a pair of middle reduction gear rolls, the fixed roll will rotate; and relying on a pair of long gears on the other side of the fixed roll, the movable roll is driven to move, and the two rolls will move in a relative motion in order to squeeze the materials.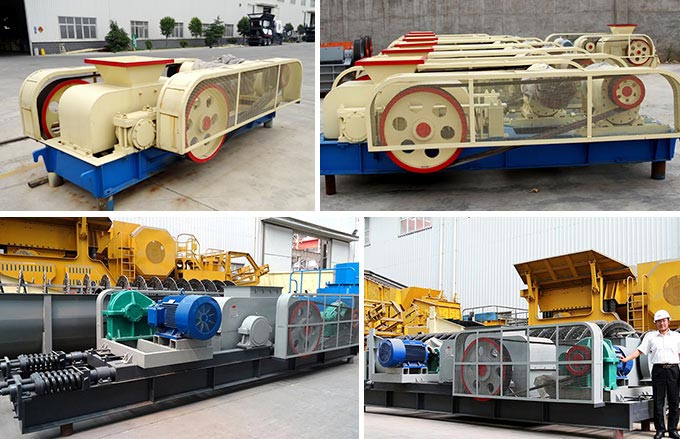 Roll crusher is applied for the coarse and medium crushing of brittle bulk materials with less than or equal to 160MPa compressive strength in cement, chemical industry, electric power, mine, metallurgy, building materials, refractory materials, coal and other industries, which has large feed particle size and adjustable discharge particle size. Roll crusher is suitable for medium and high hardness materials crushing in metallurgy industry, building materials and refractory materials industry.
Features:
1. Reliable operation, good crushing effect.
2. Easy maintenance, ling service.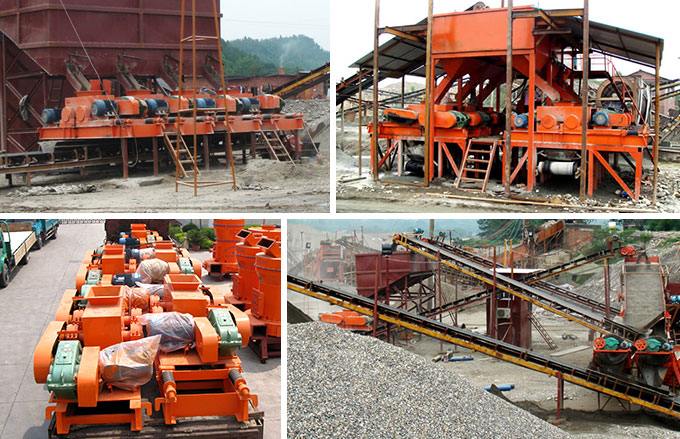 3. Low operation cost, resource saving.
4. Adjustable discharge size.
Roll Crusher Technical Data
| | | | | | | | |
| --- | --- | --- | --- | --- | --- | --- | --- |
| Model | 2PG0425 | 2PG0640 | 2PG0740 | 2PG0850 | 2PG1060 | 2PG1260 | 2PG1560 |
| Roller diameter(mm) | Ф400 | Ф600 | Ф700 | Ф800 | Ф1000 | Ф1200 | Ф1500 |
| Roller width(mm) | 250 | 400 | 400 | 500 | 600 | 600 | 600 |
| Input Size(mm) | ≤25 | ≤25 | ≤25 | ≤25 | ≤30 | ≤30 | ≤30 |
| Discharging Gate(mm) | 2-8 | 2-8 | 2-8 | 2-8 | 2-10 | 2-10 | 2-10 |
| Processing capacity(t/h) | 5-10 | 10-20 | 15-30 | 20-40 | 30-50 | 40-70 | 60-110 |
| Power Models | Y132M-6 | Y180L-6 | Y200L-4 | Y225M-4 | Y250M-4 | Y315M-6 | Y315L-6 |
| Motor power(kw) | 5.5×2 | 15×2 | 30×2 | 45×2 | 55×2 | 75×2 | 110×2 |