Introduction:
Raw mill is composed of hollow shaft, end cover, feeding device, discharging device, transmission device, liner, inlet pipe and other components. Hongxing Machinery has adopted streamlined design of novel dilly warehouse for raw materials, which greatly improves the yield of the mill, the grinding chamber adopts different plate configuration to improve the grinding efficiency. The grinding tail has a wind guiding pipe, and the motor has special DCS interface with convenient operation and centralized control.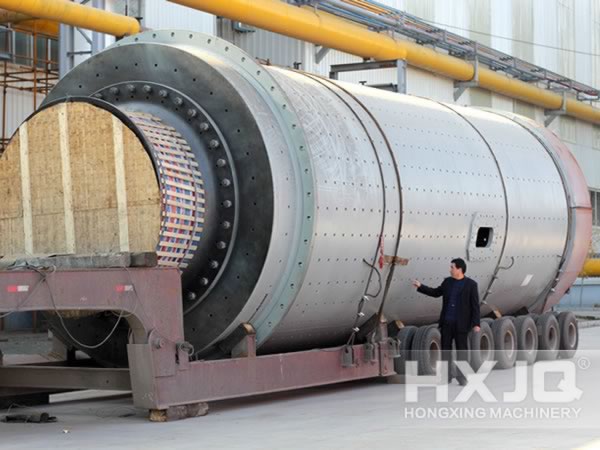 According to the structure and mode of production, raw mill can be divided into ordinary raw mill, the air swept coal mill, tail discharge lifting raw mill, unloading lifting raw material and other raw material grinding equipment. The selection of raw material should combine the actual situation, in order to achieve the best economic benefit.
Working Principle:
Raw mill usually uses the edge transmission mode, and the raw material mill uses rim drive, after the materials having continuously and uniformly sent to the internal raw material mill by the feeding machines, the electric motor drives the mill cylinder rotary motion through speed reducer. First of all, the materials spirally enter the first grinding chamber along the hollow shaft, the ball media and material in the mill are affected by the friction and centrifugal force generated by the cyclotron rotation of the cylinder, after having brought to a certain height by the centrifugal force, the materials will be thrown and spilled up and then hit and grinded by the steel ball. After the crushed finished products having discharged from the mill and sorted by the sorting equipment, thus the qualified materials are selected. The unqualified materials will return to the mill for hitting and grinding in the recycling grinding system. Raw mill can also be used for the powder making operations in cement production line.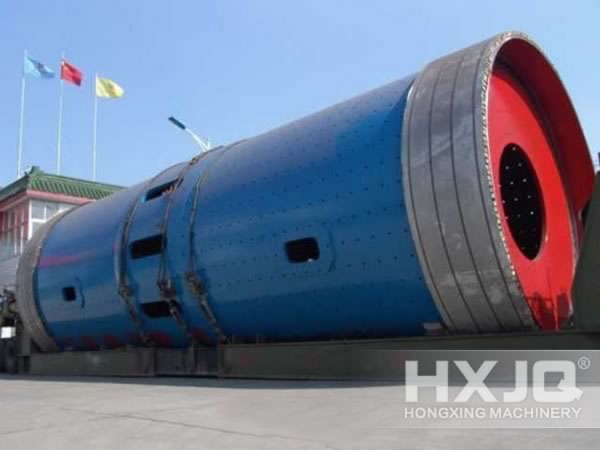 Raw mill can not only conduct dry production, but also can realize wet process production. It can also conduct the grinding and drying processes at the same time. It has large grinding ratio, large production capacity, high adaptability to raw materials and easy replacement of wearing parts, which is the very important equipment in cement production line.
Raw Mill Technical Data
Product specification
(m)
Milling form
Transmission form
Gear box
Motor power
(kw)
Production capacity
(t/h)
Total weight
(t)
Model
Speed reduction ratio
Φ1.5×5.7
Open flow
Brim
ZD40
3.55
130
4.5-6
25.8
Φ1.8×6.4
Open flow
Brim
ZD60
4.5
210
7.5-15
43
Φ2.2×6.5
Circle flow
Brim
ZD70
5
380
14-26
60
Φ2.4×7
Circle flow
Brim
ZD70
5
475
24-28
81
Φ2.4×10
Circle flow
Brim
ZD80-4-LL
6.44
570
32-36
118
Φ2.6×10
Circle flow
Brim
JDX710
6.3
800
45-50
130
Φ3×9
Open flow
Brim
JDX800
6.3
1000
55-60
158
Φ3.2×9
Circle flow
Brim
MBY900
7.1
1250
62-65
195
Φ3.5×10
Open flow
Brim
JDX900
5.84
1250
70-75
200
Φ3.8×7.5
Circle flow
Brim
JDX900
5.6
1600
80
233
Φ4.6×10+3.5
Circle flow
Central shaft
JQS3550
15.1
3550
190
415
Φ4.6×10.5+3.5
Circle flow
Central shaft
JQS3550
15.1
3550
210
476
Product
specification
(m)
Milling form
Production
capacity
(t/h)
Φ1.5×5.7
Open flow
4.5-6
Φ1.8×6.4
Open flow
7.5-15
Φ2.2×6.5
Circle flow
14-26
Φ2.4×7
Circle flow
24-28
Φ2.4×10
Circle flow
32-36
Φ2.6×10
Circle flow
45-50
Φ3×9
Open flow
55-60
Φ3.2×9
Circle flow
62-65
Φ3.5×10
Open flow
70-75
Φ3.8×7.5
Circle flow
80
Φ4.6×10+3.5
Circle flow
190
Φ4.6×10.5+3.5
Circle flow
210