Introduction:
Wet ball mill is a kind of grinding machine which works with water. It is composed of feeding part, discharging part, rotary part, transmission part (reducer, small gear, motors, electrical control) and other major parts. The hollow shaft adopts steel castings, the liner is detachable, and the slewing gear is hobbing with casting, the cylinder body adopyts wear-resistant liner, which has good abrasion resistance, stable operation and reliable work. Wet ball mill also can be called wet process ball mill or wet type ball mill.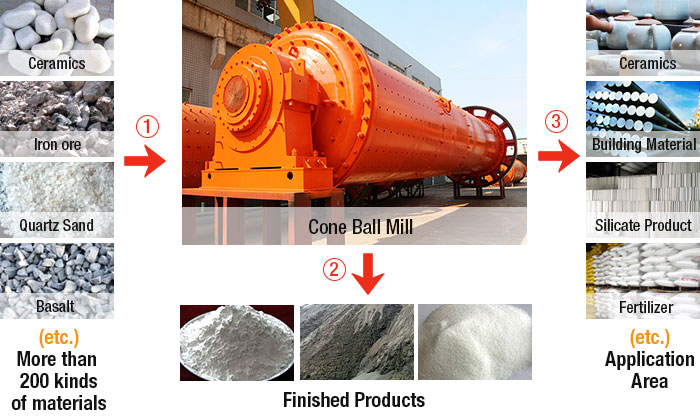 Wet ball mill is in accordance with the new design concept, which changes the structure of the original mill, so as to achieve the integration of the body and chassis, its installation can be put on a basic plane, the spindle adopts a double row spherical roller bearing, which can reduce energy consumption by 30%, the fine-grained and processing ability can increase 15%~20%, which solves the problems of the bearing, such as the service life, channeling cylinder, the sealing problem in poor environmental conditions and long working dynamic problems.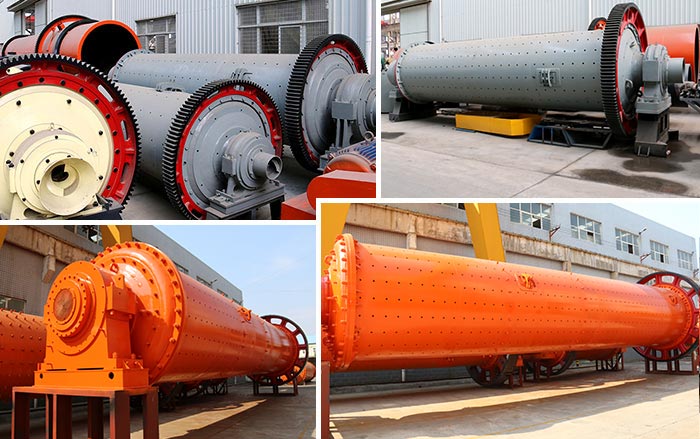 When compared with the traditional ball mill, ball mill, the motor power of wet type ball mill can reduce 18-25%, saving lubricating oil 70%, cooling water 90%, integrated energy-saving 20%.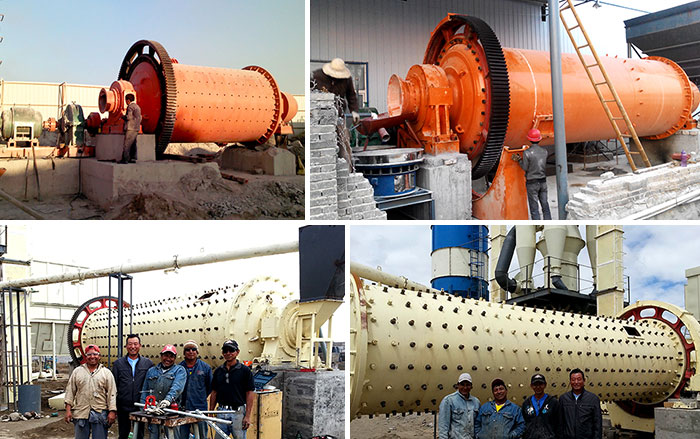 Wet Ball Mill Technical Data
Model
Shell rotation speed
(r/min)
Ball load
(t)
Feeding size
(mm)
Discharging size
(mm)
Capacity
(t/h)
Motor power
(kw)
Total weight
(t)
Ф900×1800
36-38
1.5
≤20
0.075-0.89
0.65-2
18.5
5.85
Ф900×3000
36
2.7
≤20
0.075-0.89
1.1-3.5
22
6.98
Ф1200×2400
36
3
≤25
0.075-0.6
1.5-4.8
30
13.6
Ф1200×3000
36
3.5
≤25
0.074-0.4
1.6-5
37
14.3
Ф1200×4500
32.4
5
≤25
0.074-0.4
1.6-5.8
55
15.6
Ф1500×3000
29.7
7.5
≤25
0.074-0.4
2-5
75
19.5
Ф1500×4500
27
11
≤25
0.074-0.4
3-6
110
22
Ф1500×5700
28
12
≤25
0.074-0.4
3.5-6
130
25.8
Ф1830×3000
25.4
11
≤25
0.074-0.4
4-10
130
34.5
Ф1830×4500
25.4
15
≤25
0.074-0.4
4.5-12
155
38
Ф1830×6400
24.1
21
≤25
0.074-0.4
6.5-15
210
43
Ф1830×7000
24.1
23
≤25
0.074-0.4
7.5-17
245
43.8
Ф2100×3000
23.7
15
≤25
0.074-0.4
6.5-36
155
45
Ф2100×4500
23.7
24
≤25
0.074-0.4
8-43
245
56
Ф2100×7000
23.7
26
≤25
0.074-0.4
12-48
280
59.5
Ф2200×4500
21.5
27
≤25
0.074-0.4
9-45
280
54.5
Ф2200×6500
21.7
35
≤25
0.074-0.4
14-26
380
61
Ф2200×7000
21.7
35
≤25
0.074-0.4
15-28
380
62.5
Ф2200×7500
21.7
35
≤25
0.074-0.4
15-30
380
64.8
Ф2400×3000
21
23
≤25
0.074-0.4
7-50
245
58
Ф2400×4500
21
30
≤25
0.074-0.4
8.5-60
320
72
Ф2700×4000
20.7
40
≤25
0.074-0.4
22-80
380
95
Ф2700×4500
20.7
48
≤25
0.074-0.4
26-90
480
102
Ф3200×4500
18
65
≤25
0.074-0.4
As per process conditions
630
149
Ф3600×4500
17
90
≤25
0.074-0.4
As per process conditions
850
169
Ф3600×6000
17
110
≤25
0.074-0.4
As per process conditions
1250
198
Ф3600×8500
18
131
≤25
0.074-0.4
45.8-256
1800
260
Ф4000×5000
16.9
121
≤25
0.074-0.4
45-208
1500
230
Ф4000×6000
16.9
146
≤25
0.074-0.4
65-248
1600
242
Ф4000×6700
16.9
149
≤25
0.074-0.4
75-252
1800
249
Ф4500×6400
15.6
172
≤25
0.074-0.4
84-306
2000
280
Ф5030×6400
14.4
216
≤25
0.074-0.4
98-386
2500
320
Ф5030×8300
14.4
266
≤25
0.074-0.4
118-500
3300
403
Ф5500×8500
13.8
338
≤25
0.074-0.4
148-615
4500
525