Introduction:
PE jaw crusher is also called single toggle jaw crusher, which is mainly used for the coarse crushing of materials. PE jaw crusher is the large sized crushing equipment with independent research, development, design and production of our company, which has high crushing ratio, high yield, uniform product size, simple structure, reliable work, convenient maintenance, low running cost and other characteristics. It is suitable for crushing materials with less than 320MPa crushing compressive strength, which can be widely used in mining, smelting, building industry, highway, railway, water conservancy, chemical industry and other industries.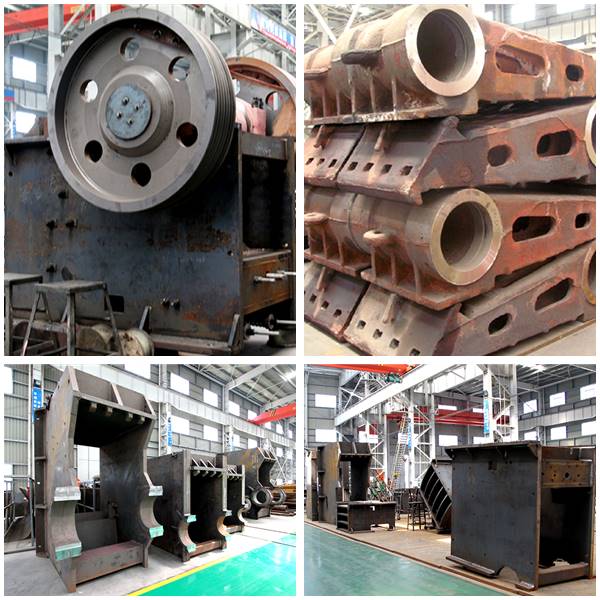 PE jaw crusher is mainly composed of a frame, an eccentric shaft, a big belt wheel, the flywheel ,the movable jaw, a side guard plate, elbow plate, plate elbow back seat, gap adjusting screw rod, a reset spring, a fixed jaw and a movable jaw plate and other components, wherein the elbow plate also plays the role of insurance.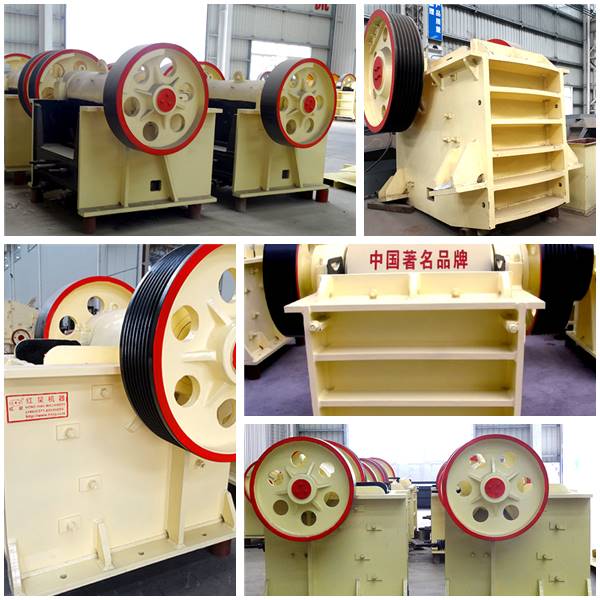 Working Principle:
When jaw crusher is working, the motor drives the eccentric shaft to rotate through the belt wheel, so that the movable jaw will move closely and leave far away from the fixed jaw periodically. Through the squeezing, rubbing, grinding and other multiple crushing of materials, the material will be crushed from big to small, and then gradually fall off until discharged from the discharging mouth.
Features:
1. Simple structure, convenient repair, stable performance, low operation cost, high crushing ratio;
2. Deep crushing cavity and no dead zone, which improves the feeding ability and yield;
3. Big crushing ratio, uniform product size;
4. The gasket adjusting device of discharge port is convenient, reliable, large adjusting range, which increases the flexibility of the equipment;
5. The lubrication system is safe and reliable, convenient replacement of the spare parts, small maintenance workload;
6. Simple structure, reliable work, low operating costs;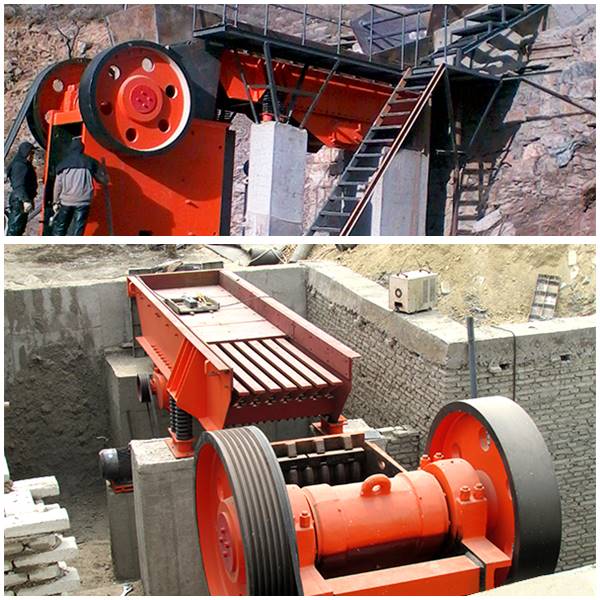 7. Energy saving is up to 15% ~ 30%;
8. Large adjusting range of the discharge port can meet the requirements of different customers;
9. Low noise, less dust.
PE Jaw Crusher Technical Data
Model

Feed opening
(mm)

Max.feeding size
(mm)

Adjusting range of discharge opening
(mm)

Processing capacity
(t/h)

Rotation speed of eccentric shaft
(r/min)

Motor power
(kw)

Total weight
(t)

Dimensions
(L×W×H)
(mm)

PE-150×250
150×250
125
10-40
1-3
250
4P 5.5
0.8
720×660×850
PE-200×300
200×300
180
15-50
2-6
260
4P 7.5
1.2
910×750×990
PE-200×350
200×350
180
18-70
3-10
260
4P 11
1.5
1000×870×990
PE-250×400
250×400
210
20-60
5-21
300
6P 15
2.8
1300×1090×1270
PE-400×600
400×600
340
40-100
16-60
275
6P 30
7
1730×1730×1630
PE-500×750
500×750
425
50-100
40-110
275
6P 55
12
1980×2080×1870
PE-600×750
600×750
500
150-200
80-240
275
6P 55
15.8
2070×2000×1920
PE-600×900
600×900
500
65-160
50-160
250
6P 55
17
2190×2206×2300
PE-750×1060
750×1060
630
80-140
110-320
250
8P 110
29
2660×2430×2800
PE-800×1060
800×1060
640
130-190
130-330
250
8P 110
29.8
2710×2430×2800
PE-830×1060
830×1060
650
160-220
150-336
250
8P 110
30.7
2740×2430×2800
PE-870×1060
870×1060
660
200-260
190-336
250
8P 110
31.5
2810×2430×2800
PE-900×1060
900×1060
685
230-290
230-390
250
8P 110
33
2870×2420×2940
PE-900×1200
900×1200
750
95-165
220-380
200
8P 110
52
3380×2870×3330
PE-1000×1200
1000×1200
850
195-265
315-500
200
8P 110
55
3480×2876×3330
PE-1200×1500
1200×1500
1020
150-350
400-800
180
6P 160-220
100.9
4200×3300×3500
PE-1500×1800
1500×1800
1200
220-350
500-1000
180
8P 280-355
139
5160×3660×4248
PEX-150×750
150×750
120
18-48
8-25
320
4P 15
3.8
1200×1530×1060
PEX-250×750
250×750
210
25-60
13-35
330
6P 22
5.5
1380×1750×1540
PEX-250×1000
250×1000
210
25-60
16-52
330
6P 30
7
1560×1950×1390
PEX-250×1200
250×1200
210
25-60
20-61
330
6P 37
9.7
2140×1660×1500
PEX-300×1300
300×1300
250
20-90
16-105
300
6P 55
15.6
2720×1950×1600